Surge Protector Types
Surge Protectors come in two basic variants - those that protect things and those that fix things. With all of the sophisticated electronics aboard today's RVs, a Surge protector has to shield you from a number of different situations that may be harmful to your RV. The most common need is to prevent against sudden spikes or surges in power levels. Equally important is the ability to protect against low voltage, high voltage, and faulty pedestal wiring. As the total amperage load on a campground's grid increases, the potential for low voltage increases. Unless the campground was designed for a large number of 50 amp sites being used at their capacity and spread all over the area, chances are that the wiring is not adequate to supply enough power to each site. If the wire gauge is of insufficient capacity, the voltage will drop as the amperage goes up. When these volts go down, commonly referred to as a brown out situation, the extra amps will overheat wiring in your RV and you will see damage to many components such as air conditioners, transfer switches, microwave ovens, etc. A good surge protector will provide over-voltage and under-voltage protection as well as surge protection. Most surge protectors also have series of LEDs on them to warn you of a miswired pedestal. If the polarity is reversed or the ground is missing it should lock out that power source.
The second type of unit is a Power Booster. A surge protector will shut down power to the RV in order to protect it but it won't correct the problem. A power booster uses transformers to boost a low voltage power source (within reason) and still allow your coach to operate from shore power. A power booster has surge protection which may or may not be of equal quality to a true surge protector. Generally a surge protector uses efficient MOVs to accomplish this but the transformer based design of a power booster doesn't easily lend itself to that technology. Checking the specs is important when choosing a power booster.
Surge protectors and power boosters can be mounted either inside the coach or located at the pedestal. It's easiest to mount it inside the coach's basement compartment because it's out of the way, secure against theft, and it's one less thing to have to hook-up and disconnect later. If you mount a power booster inside the basement be sure to allow adequate cooling because the transformers will give off heat. This is not an issue with a surge suppressor however. Mounting them on the pedestal does expose them to rain and other elements, as well as potential theft, but there are no heat concerns. Some portable models do have optional locking adaptors to lock them to the pedestal to deter theft.
Some surge protectors are also built in with an automatic transfer switch to replace your existing transfer switch. This also allows protection against generator set overruns and power issues.
The popular brand Surge Guard offers a number of varieties:
| | | |
| --- | --- | --- |
| The Surge Guard Hardwired unit is perfect for mounting in a basement compartment. | The Surge Guard portable unit is a highly portable unit that hangs on the pedestal. | The Surge Guard Plus has an automatic transfer switch built in and will also monitor any generator output power as well as shore power. |
Progressive Industries also makes a great line of surge protectors:
| | | |
| --- | --- | --- |
| The EMS PT series is a portable unit. | The EMS HW50-C is a hardwired unit with a remote LED display. | The EMS HW50LC-C is a hardwired unit with an integral LCD display. |
The Hughes Autoformer and Super Booster are transformer based devices design to boost voltage.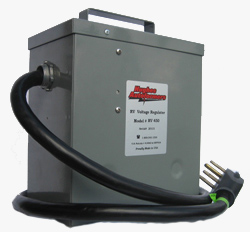 Submitted by Mark Quasius - 2/22/06

Click Your browser's "Back" button to return to the previous page
or chose another category from the side menu.

The RV Tech Library is brought to you by the TiffinRVnetwork