Satellite TV Dish Styles
There are four basic types of Satellite TV antennas available for Tiffin RV owners. These are:
Hand Crank

Automatic

In – Motion

Portable
Hand Crank -

Shown here is a hand crank that is manufacturerd by Winegard. This model is mounted on the roof of the RV and has a hand crank to raise it to the required angle and location to receive the signal. The hand crank in my opinion is the most cumbersome antenna due to the manner in which one has to locate the proper angle and bearing to find the signal. Once this information is determined, then one has to manually find the signal. Speaking from expierence, this sometimes is not an easy task. Some times you get lucky, but others not so. They do have accessory options one can purchase to assist in this task which do help. This is also one of the least expensive antennas.
Automatic Digital Satellite Dish -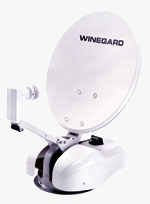 also can be purchased with GPS capability. This system is totally automatic! Compatible with Dish 500®, the receiver will toggle between 110° and 119° with Global Positioning System technology (GPS). It automatically searches for the correct satellite while your vehicle is parked. Press Power on the wall-mounted control panel in your RV to search for the satellite — no numbers to enter! System includes 18 inch dish, lift system, LNBF, GPS and interior control panel.
In Motion -

Winegard's Movin' View stationary and in-motion domed satellite systems not only look good, they feature one-button operation with no user input, GPS (Global Positioning System, in-motion systems only) and DVB (digital video broadcasting) satellite signal acquisition, two receiver capability, and access satellites at 92°, 101°, 110°, and 119°.
In Motion: Low Profile -

Built for "real world" mobility, the LP-1000 antenna mounts on motor homes, trailers, campers, and larger SUVs and vans. Using Reflector Antenna Technology, it receives DIRECTV® and DISH Network® in the majority of the U.S. (To verify coverage, see the maps below or in the owner's manual. The LP-1000 RV In-Motion Satellite Antenna is the ultimate low-profile system. Whether you are driving or stationary, our GPS technology and DVB circuitry gives you fast and reliable satellite signal acquisition.
For the purposes of this topic, I have shown Winegard products, however Tiffin uses King-Dome satellite antennas. Many of Tiffin Products come equipped with either a King Dome automatic or in-motion antenna system.

King Controls is a leading manufacturer of mobile satellite antenna systems for the land and marine markets. Our King-Dome Systems allow customers to enjoy the same clear, vivid, digital pictures in mobile applications that they enjoy in their homes. Their products provide ease of use and are compatible with all satellite receivers and all major satellite television providers. King Controls offers a complete line of dome-covered satellite systems for people on the go. Whether your need is stationary or in-motion; land or marine, there is a King-Dome that is right for you. So join the ranks of thousands of satisfied King-Dome customers and take the enjoyment of satellite television entertainment with you wherever you go!
The Trac-King in motion satellite system is the most advanced satellite tracking system available today. With azimuth tracking speeds exceeding 90° per second and elevation tracking of 40° per second, the Trac-King tracks twice as fast as any competing system. It also has a unique rotary joint design that eliminates the troublesome "cable wrap" which causes competing systems to lose satellite signal when turning.
There is also another brand which is called KVH TracVision. Most of these antennae operate about the same. Listed below are the websites:
Winegard - www.winegard.com/

Kingdome - www.kingcontrolscom/

Winegard - www.kvh.com/landmobile/
Portable -

TR-2000 ANTENNA TRIPOD/BASE MOUNT
Molded heavy duty ABS flat base with convienient azimuth degree markings molded in. The pole and legs attach to base but can be easily removed for storage and portablility. Works with standard 18-inch satellite antenna and mount. Flat base, 18 inch antenna pole, detachable legs, ground anchor/bungie, compass and level.
TR-3500 TRIPOD MOUNT W/ CARRY BAG
TR-3500 accomodates multi-satellite (DISH Network® DISH 500 or DIRECTV® Oval Dish), or 46 cm (18") satellite antennas. Designed to be used in almost any area, the legs can be quickly adjusted for uneven surfaces. Set up tripod, level with included bubble level, and use ground anchors if needed. Put antenna on the mount pipe, then use the compass, also included, and quickly find the satellite.
Submitted by Mike Sundberg - 2/27/06

Click Your browser's "Back" button to return to the previous page
or chose another category from the side menu.

The RV Tech Library is brought to you by the TiffinRVnetwork