Hydronic Heating Overview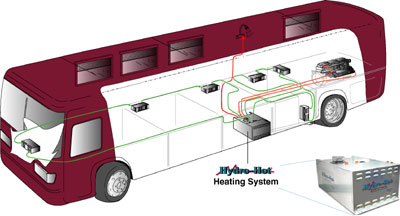 Click on Image for a Larger View
Update Note:
As of 2007 Vehicle Systems, Inc., the people who make the HydroHot have undergone a name change both for their company as well as the hydronic heating products they make. their name has been changed to Aqua-Hot Heating Systems in order to better reflect the product that they make. Previously, two models of hydronic heating systems were made, the AquaHot which was a physically larger sized unit used in conversion busses and other high end coaches and the HydroHot, which was a more compact unit designed to fit into class A motor homes. In 2007 these two units continued with a slight design change to the exterior cabinetry as well as a rename of the products. The new units are both named Aqua-Hot now. The larger unit, previously named AquaHot, is now the Aqua-Hot 600-D series. The smaller unit, formerly known as HydroHot is now the Aqua-Hot 450-DE series. The upgrades were basically cosmetic so the technical information and performance levels remain the same for both old and new models.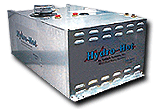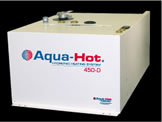 Hydronic heating is very similar, regardless of who makes it. However, 90% of the hydronic heating installations out there are the HydroHot. This is also the system used in the Allegro Bus so that's the one that we'll specifically deal with here.
What it does:
Traditional furnaces burn propane to heat air, which is then fed through a duct system by the blower fan. That's all they do. Hot water heaters heat water via either an electric heating element or a propane burner. The heated water remains in the water heater tank until it is used.
Hydronic heating replaces both the propane furnace(s) as well as the hot water heater. It uses a diesel fired boiler to provide heat as well as instant on-demand hot water. In addition an electric heating element can provide heat when desired. It does this by heating a heat exchanger filled with antifreeze that then circulates to a series of small radiators placed throughout the coach. Each radiator has a blower fan behind it to provide forced air heat. The various radiators are assigned to zones so that each area of the coach can have the proper amount of heat according to each zone's needs.
This same boiler will heat hot water. But, it does not heat up hot water in a tank. This boiler is capable of providing continuous on-demand hot water so that you never have to worry about running out of hot water as the tank gets used up.
The HydroHot system is a module that will fit in the same space as a traditional hot water heater therefore it can be retrofit into existing coaches although there will be a large amount of plumbing required to connect the boiler to the radiators.
HydroHot has a 3 zone heating system. This means that you can set the front of the coach for one temperature and the rear for another. The boiler will kick in and the appropriate solenoid valve will open, allowing hot water to flow to the proper radiators and the appropriate blower fans will then kick in. There is also a separate zone for the basement area. In freezing temperatures your coach may be in the warm sun but the basement areas, where the plumbing is, may be below freezing. HydroHot will still heat the basement area according to the basement thermostat without being affected by the upstairs thermostat.
HydroHot will also act as an engine pre-heater. It can be connected to the engine's cooling system and will preheat the engine block by circulating warm coolant through it. This same coolant loop serves to backfeed the HydroHot while driving. In this case the engine's heat will heat the HydroHot so that the diesel burner doesn't need to run when trying to heat the coach while driving in cold temperatures. It will also supply enough heat to provide hot water while driving.
For a great diagram of how the system is laid out Click Here or click on the above graphic to display a larger, more detailed diagram.
Advantages of HydroHot:
Compact size - Fits in the existing hot water heater space. This frees up room otherwise used by furnaces for other storage or equipment. In the case of the 42-43' tag axle Allegro Bus floor plans, which are only available with hydronic heat, this gives the coach builder the ability to redesign the basement for maximum storage.
Unlimited Hot Water - Water is heated on demand, rather than stored, so you never run out. No tanks to have to preheat so there's no delay waiting for hot water. Also, no anode rods to change.
Three Zone Heating - Independent thermostatically controlled zones provide even heat throughout. Very similar to the dual furnaces used in the Allegro Bus except taken to a new level.
Engine Preheating - Keeps engine warm for cold weather starting. The engine's coolant is circulated through the HydroHot boiler to keep it warm.
Operates Off Diesel Fuel - Diesel fuel has more energy than propane and is more efficient. Larger size fuel tank allows longer runtimes and you don't have to make a separate stop for propane.
Quiet Operation - Low velocity heat exchangers provide quiet heating.
Electric Heating - Use campground's shore power to further increase fuel savings. The electric heating element may not provide enough heat to take a really great hot shower but the diesel burner can be kicked in just for that time frame if needed. It's going to depend upon how much water you shower with and how hot you like your shower. When consuming mass amounts of hot water, the HydroHot will temporarily stop the heating system during that time to concentrate all of it's energy on domestic water heating. When the water flow has stopped, the heating system will automatically restart.
Specifications:
| | |
| --- | --- |
| Number of Heating Zones | 3 separate interior zones |
| Basement heating Zone? | Yes |
| Hot Water Heating? | Yes |
| Engine Preheat? | Normally optional, but is standard on Allegro Bus |
| Diesel Burner Output | 50,000 btu/hour |
| Electric Heating Element | 1,650 watt 120 Volt AC |
| MotorAide (engine provides heat) | Yes |
| Diesel Fuel Type | Diesel #2, #1, or Kerosene |
| Diesel Burner Consumption | 0.5 gallons/hour (typical daily consumption = 2-4 gallons) |
| Circulating Pumps | (2) 12 VDC, 21 watts |
| Weight | 105 lbs dry and 140 lbs wet |
| Dimensions | 12H x 18.5W x 30L (fits in 10 gallon water heater compartment) |
Fuel Considerations:
What's the advantage to using diesel fuel over propane? First, you have more diesel fuel on board than you do propane, therefore the runtime is longer. A typical 40' Allegro Bus will typically come with a 32 gallon LP tank and a 150 gallon diesel fuel tank. That means it's going to need refueling much less often than the propane tank will. Also, it's a one stop refuel. You are automatically refueling your heating system every time you stop for diesel fuel because the fuel tank is one and the same. With propane you now have to hunt down a place that has propane for sale and maneuver into position to refill your tank. Remember that you can't fill a propane tank over 80% either.
What about comparing diesel fuel and propane fuel? Fuel prices are highly volatile and they bounce all over the place according to the whim of the oil companies. For the following example we'll just assume that both propane and diesel fuel both cost $2.50 a gallon. As prices change you can make adjustments accordingly.
First, some facts:
Propane has a BTU rating of 91,500 BTU/gallon
#2 Diesel Fuel has a BTU rating of 139,200 BTU/gallon
BTU (British Thermal Unit) ratings serve to show how much energy is in a given amount of fuel. You will get more heat out of a higher BTU rated fuel than from a lower one. Therefore, you'll use less fuel to get the job done if it's a higher BTU fuel.
Assuming that it's really cold and you are running the HydroHot 8 hours of runtime per day you will consume 4 gallons of diesel fuel. This is assuming that you are NOT using the electric heating element, which will further reduce your fuel consumption. 8 hours at 139,000 BTU/hour is a total of 558,000 BTU per day. 4 gallons at $2.50 per gallon means that it'll cost you $10.00 for diesel fuel for that day's heating.
In order to run a propane furnace you will need to burner a few extra gallons of LP because it isn't as powerful as diesel fuel. In order to get 558,000 BTU of heat to meet the day's heating requirements we'll need to burn 6.1 gallons of propane (558,000 BTU divided by 91,200 BTU/gallon = 6.1 gallons). 6.1 gallons of fuel at $2.50 per gallon means it'll cost you $15.25 to heat with propane.
At $15.25 for propane and $10.00 for diesel that means that it will cost an extra $5.25 per day to heat with propane, which is an extra 53% in fuel cost. Of course adjustments will need to be made for current fuel pricing and also for any "free" heat you gain via the HydroHot's electric heating element but overall we'll see a 53% increase in fuel costs with propane versus diesel fuel.
Also consider that, at 6.2 gallons per day your 32 gallon (at 80% full) LP tank will be empty in 4.2 days while your diesel fuel tank will be empty in 37.5 days - assuming you actually run it that low.
Is Hydronic Heating for me?
Can I justify the cost? Justifying the extra cost for the HydroHot option strictly on a fuel savings basis is probably not going to happen, unless you do lots of cold weather camping and plan on keeping your coach for quite some time. The above scenario shows that you'll need to run the heat full bore like that for over 1,000 days in order to recover the initial cost. Chances are, you're never going to see that many cold days so, as the per day fuel consumption goes down, the number of days to recover those savings is longer. You must also consider how much "free" heat you can gain from your campground's shore power when determining this so your specific camping style weighs heavily into this.
But we tend to spend thousands on satellite TV systems and other devices that also do not offer any return on investment other than enjoyment so the HydroHot should be looked at in the same manner. You are getting nice even heat with the hydronic heating. You also don't get the drying out that tends to occur in propane furnaces. You get multiple zones, including a separate zone for the basement area. You get engine preheating and instant hot water that never runs out. The MotorAide heating feature lets the RV's engine provide free heat while driving. You get substantially greater runtime before needing to refuel and you don't need to make a separate stop to get propane. Your existing LP tank will probably run a very long time because it's only powering the cooktop and the refrigerator (while driving or boondocking). If these are the kinds of features that appeal to you, then hydronic heating may be a good choice.
What are the Maintenance Requirements? The diesel burner will require annual maintenance. The burner requires a fresh fuel filter and burner nozzle every year. If you ignore this your HydroHot will tend to smell because it'll be running rich with partially unburnt fuel out the exhaust. This maintenance is not expensive but it is something that should be done and it's fairly easy for an owner who is halfway mechanically inclined top do on his own.
The boiler in the HydroHot is filled with antifreeze so it can be used year-round to provide heat and does not need to be winterized. However, the domestic water supply portion that provides hot water heating is not protected. If the coach will be located in freezing conditions you have one of two choices to make. You can leave the HydroHot running. Keep the thermostats at a minimal temperature, including the basement water area. You do not have to winterize your coach's plumbing system then. If you don't want to leave the heat on you must winterize your fresh water system by the usual blowing out of the plumbing system. In this way, it's no different than a traditional hot water heater. However after the system is winterized, you may still use the HydroHot to heat the coach because that portion is filled with antifreeze.
You can dewinterize and sanitize the domestic fresh water system the same way that you would on any other RV.
The antifreeze used in the HydroHot is different than your basic automotive antifreeze. Automotive antifreezes are Ethylene Glycol based, which is toxic if ingested. The antifreeze used in the HydroHot is a Propylene Glycol based antifreeze that is designed for boilers. You can obtain this direct from Aqua Hot via their website or it is available from any RV dealer who handles the Camco product line. The Camco product is part number 30027 and is called Camco Boiler Antifreeze - 100. Many stores such as Home Depot also carry boiler antifreeze
Is hydronic heating perfect? Not hardly, there are very few win-win situations in life. There are always some compromises.
The exhaust pipe generally sticks out the driver's side of the coach, near the middle. If your burner is running rich there can be a noticeable smell to it. Generally this is not noticeable but if you are camping in tight quarters to a neighbor, there could be an issue. While HydroHot is generally pretty quiet, the exhaust noise is a bit louder than an LP furnace exhaust, but it is quieter than an LP water heater. Some hydronic heat users have taken to adding the Camco Genturi, which is a handy little exhaust stack kit that assembles to raise the exhaust to over the roof line when parked. While originally designed for generator exhausts, it has proven well in hydronic heat because any noise and smell are exhausted up high where it can easily dissipate if you are in tight quarters.
Needless to day, if you have a gasoline powered motorhome, hydronic heat isn't going to work because you don't have a diesel fuel tank. For more information check out the owners manual and service manual links on the previous page.
Submitted by Mark Quasius - 3/12/06

Click Your browser's "Back" button to return to the previous page
or chose another category from the side menu.

The RV Tech Library is brought to you by the TiffinRVnetwork