Visiting Red Bay
So, you want to go to Red Bay and visit the Tiffin RV facility. You are not alone! For some, it is an annual pilgrimage for repairs, for others they are just interested in "seeing the factory". Yet still other folks want to go see their "new baby' being built and the entire birthing process. Whatever your reason is, this document should help your trip to be rewarding and fun.
Coming into Red Bay for the first time is like visiting any small rural town in America. Each has character, interesting places and sites to see. Red Bay is no different. They have a post office, downtown area, even a McDonalds, what they don't have is a fast pace of life. No one is in any hurry and for those of us who like things done immediately if not sooner, better take a pill. Red Bay folks are friendly, knowledgeable, and just plain good folks, they just aren't anxious to get on with life.
Tiffin Motor Homes is the largest employer for this small town and the Tiffin family name is recognized throughout the entire area. Their employees number around 1200 plus and they are still hiring. Their employees drive as much as 50 miles to build your motorhome.
There are a number of things one can do while spending time at Red Bay. Here are a few that we have done, but I am sure there are more yet.
Tour Tiffin Factory (Downtown Factory Facility) Here "Red" conducts tours of the Tiffin plant facilities and believe me he knows his stuff. Gives a great tour. Just ask at the Guard Shack or Campground offices where the tours start
Red Bay Museum
Tiffin Repair Facilities (next to Allegro Campground)
Tiffin Paint Facilities – nearby Belmont, Ms (6 .5 miles). Where Tiffin has a state-of –the – art paint facilities. Ask at the campground for directions.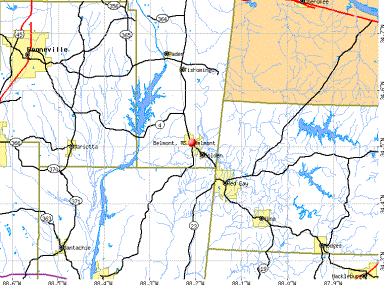 Coon Dog Cemetery – This little side trip was a hoot. I would have never believed it had we not journeyed a few miles to walk thru and see this unique site. Only one I know that is dedicated solely to "coon (dogs". Believe me, when I say some folks think quite highly of these animals. (You can find the Coon Dog Cemetery 7 miles west of Tuscumbia on U.S. Hwy 72. Turn left on Alabama Hwy 247 and travel approximately 12 miles. Then turn right, and follow the signs.) www.coondogcemetery.com/ - See map in Map Section
Nearby Tupelo – Tupelo is recognized around the world as the birthplace of Elvis Presley. The small, shotgun house where Elvis was born, and the adjacent Elvis Presley Museum and memorial chapel, draw nearly 100,000 visitors each year. Also for the gals there is a Mall.
Muscle Shoals - The Shoals area is known worldwide for its music recording industry, as the birthplace of W. C. Handy, Father of the Blues, The birthplace of Helen Keller, and the home of the Alabama Music Hall of Fame. We are also the birthplace of the Tennessee Valley Authority and the location of the Wilson Dam. TVA's Environmental Research Center, The Public Power Institute and the International Fertilizer Development Center, all nationally and internationally recognized institutions, is located in the Shoals.
Florence Area:
The history of Florence and the Shoals began over 10,000 years ago when Native Americans inhabited the area. Evidence of their existence can still be found at the ancient Florence Indian Mound.
In 1818, the Cypress Land Company was formed to develop a thriving river town. A young Italian surveyor laid out the town of Florence and named it for his favorite city in Italy — Florence. The area is rich in Civil War history. Although no major battles were fought here, there is ample evidence of skirmishes all over the area.
Popes Tavern, located in Downtown Florence, served as a hospital for both Union and Confederate troops - depending on who controlled the area at the time. It now serves as a museum that highlights Florence's rich history.
Swamp Johns:
A trip to Red Bay and not stop out at Swamp Johns for lunch or supper would be sacrilege. Just east of Red Bay and on the way to the Coon Dog Cemetery on the left side of the road is this rather colorful place to grab a bite. Our first trip there the gas station and store was still operating and one ate in the old lube room. We had to wait for a place to sit as there was standing room only. Last time we ate there, the filling station and store have been replaced with more places to sit. If you're looking for good food, interesting conversation with the locals, and a colorful atmosphere then this is a must. If you are more of a jet setter, like linen tablecloths, eat by candle light and sip Chardonnay from crystal, then you're probably going to be a whole lot disappointed.
Just outside the Tiffin Motorhome Plant is a small combination store and service station. Inside is buffet style eating? Feel daring and perhaps a little adventurous. Try their Chocolate Gravy and biscuits in the morning. Better not sleep too late, they will be all gone. The locals love em, that's where they go for morning coffee and Bull Sessions.
Natchez Trace Parkway:
The 444-mile Natchez Trace Parkway commemorates an ancient trail that connected southern portions of the Mississippi River, through Alabama, to salt licks in today's central Tennessee. Today, visitors can experience this National Scenic Byway and All-American Road through driving, hiking, biking, horseback riding, and camping.
There are three campgrounds located on the Parkway. No reservations required to camp at these primitive sites. Other campgrounds can be found along the Parkway corridor that offer full hookups. There are more than a dozen campgrounds along the Natchez Trace Parkway corridor, three in the park, and many others just outside the park. The three Parkway campgrounds are free, primitive, and available on a first come, first serve basis. They do not offer electricity, showers, or dump stations. They are spread out along the Parkway: Rocky Springs (Milepost 54), Jeff Busby (Milepost 193), and Meriwither Lewis (Milepost 385). Many of the other campgrounds along the Parkway corridor offer electricity, showers, and dump stations. Check the complete updated list of all the campgrounds along the Parkway for the locations and services offered by private and public campgrounds.
Water Ways: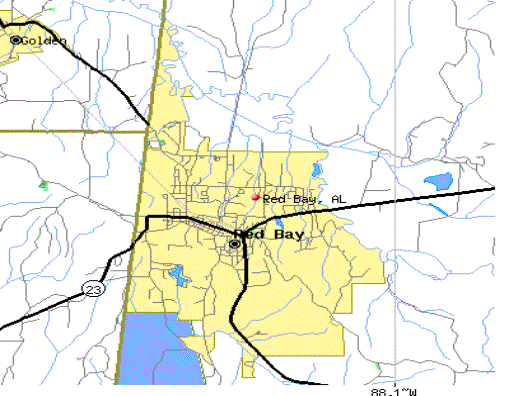 Note: If you like fishing or the water, then the Red Bay area has a lot to offer. Notice the areas in blue on the map, these are water areas.
Submitted by Mike Sundberg - 3/03/07
Portions of this information were supplied by Dan and Janet Yanetta

The RV Tech Library is brought to you by the TiffinRVnetwork