The FRED Chassis
A gasoline powered chassis is the most economical to buy. When you make the jump to a diesel pusher chassis such as the Freightliner XC or Spartan Mount Master you go into a whole different area as far as design and technology. It's not just an engine upgrade. However, this jump in capabilities also is accompanied by a serious hike in price.
Over the years, RVs have been getting much more sophisticated. The RV buying public wants more features and amenities than in the past. Things such as solid surface countertops, ceramic tile, true hardwood cabinetry, and more and more slideouts contribute to extra weight. This weight requires heavier chassis and larger engines, which reduces performance from both power and fuel economy aspects.
There have been a number of improvements in recent years in diesel engines. They are much more "user friendly" than in the past and their noise levels have been drastically reduced and the power outputs have been increasing. The efficiency of a diesel engine makes this a good choice in an RV application. Freightliner has introduced the new FRED chassis. While technically this chassis is known as the MC chassis, it is commonly referred to as FRED, which is an acronym for FRont Engine Diesel chassis. Tiffin has made this chassis available in the 2006 model year Allegro and Allegro Bay product lines.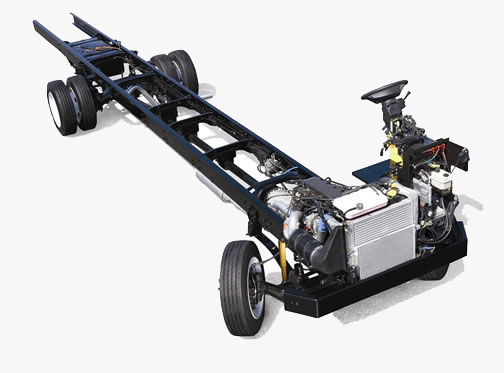 FRED was never designed to replace a DP chassis. It's primary goal is to give the owner of a gasoline powered chassis the ability to gain the advantages of diesel power at a minimal price. The chassis itself is still in the gasser technology area so the price of a FRED option is minimal compared to the large price jump associated with an air-ride diesel pusher chassis.
FRED is much more than a diesel engine stuffed into a gasser chassis. FRED initially used the 5.0 liter 300 HP Cummins ISB engine, which puts out 600 ft-lbs of torque but since the new 2007 emissions spec engines have came out the ISB was increased in displacement to 6.7 liters and rebadged as the ISB-X. It still puts out 300 HP and 600 ft-lbs of torque in the Allegro but has been upped to 340 HP and 750 ft-lbs of torque in the Allegro Bay. The engine is dropped very low into the chassis so that there isn't that huge doghouse common to gas engines. This gives you much easier access to the cockpit area without climbing over a large doghouse. It also keeps any heat or noise down below the floorboards rather than next to the driver's head. This, plus the huge improvements in sound levels on the new Cummins ISB, make for a very quiet power plant. That is a huge improvement over diesel puller chassis of previous years.
The Cummins ISB also has a very quick power curve so you will achieve maximum torque at very low RPMs. This is an advantage over gasoline engines because they need to keep their RPMs up high in order to develop maximum power. FRED puts the power down low in the rev range where RVers typically drive. The Cummins ISB also features a variable geometry turbocharger to improve exhaust braking and conserve on wear and brake fade on the service brakes. Other diesel advantages are increased engine life expectancy, and oil change intervals at 15,000 miles.
The chassis itself is very similar to a gasser chassis. It features a 55 degree wheel cut, parabolic leaf springs, 50,000 PSI ladder frames, and hydraulic disk brakes with ABS. The engine is coupled to the driveline via either an Allison 2100MH transmission (Allegro Bay) and uses the Arens push button shift selector pad. The Allegro gets the lighter duty Allison 2200 transmission. Initially these were 5 speed transmissionms but as of 2008 they now feature 6 speeds.
The GVWR of a FRED based motorhome increases to 26,000 lbs with a 30,000 lb GCWR so the extra capacity allows the coach builder to add plenty of slideouts while still retaining adequate Cargo Carrying Capacity. This gives it an advantage over gassers, who can be saddled with low CCC ratings on a well equipped coach.
FRED won't ever outdo the benefits of a diesel pusher chassis, but those benefits do come at a significant price. The target market for FRED is an RVer who wants to stay in the gasser chassis price range but needs a bit more cargo carrying capacity and wants the advantages of a diesel engine. The improved fuel economy and longer service intervals should make FRED a less expensive vehicle as far as operating costs go. The initial cost upcharge (estimated at $8,000 List price or $6,000 to the end user) can be offset by the reduced operating costs. The actual cost recovery point will depend upon how much you drive the RV. If you really don't put that many miles on your RV, chances are you won't be able to justify it strictly from an operating expenses standpoint but you still will benefit from the extra CC and pulling power. All in all, it's nice to have the option for those who choose to have it.
Submitted by Mark Quasius - 2/08/06

Click Your browser's "Back" button to return to the previous page
or chose another category from the side menu.

The RV Tech Library is brought to you by the TiffinRVnetwork