Water Tank Sensors
While the typical automobile only has a fuel tank to worry about, RVs have a number of additional tanks that need to be monitored as to how full they are. Propane tanks, fresh water tanks, gray water tanks, and black water tanks all need to be monitored. Most RVs include a monitoring panel somewhere in the interior of the RV that will display these levels. Generally, the panel consists of a series of LEDs that will light up to indicate how full each tank is when you press the "test" button. Each tank gets 4 LEDS that are arranged in sort of a bar graph arrangement. The bottom LED lights at "empty". The second LED lights at "1/3" while the third LED lights at "2/3", and the last LED lights at "full". If the tanks are full, all 4 LEDS will illuminate. If it's 2/3 full 3 out of 4 will light up, and so forth. Generally these LEDs are color coded so that the LED lit will be green if it's a good thing or red if it's a bad thing. Some manufacturers also include a battery condition LED graph as well.
Problems With Sensors:
Your propane tank has a variable resistor sending unit inside that can accurately pass this information to the panel. But, the fresh, gray, and black water tanks use internal sensors that make contact once the fluid level reaches that point. This is all fine and well if everything is nice and clean but the problem is these sensors can get fouled and then whatever information they give is inaccurate. Although, when the gray water backs up into the shower stall you'll have a pretty good idea that the gray tank is full.
There are a number of tricks for cleaning these sensors, such as dumping a few bags of ice into the black tank and driving around for a while to knock things loose. Another is to put Calgon dish washer soap into the gray tank and do the same. The big secret is to try to keep them as clean as possible. If your black water tank has a built in flushing attachment, use it frequently.
Wouldn't it be nice if these internal sensors were done away with and a better system was devised? Well, there is! On my Allegro Bus I installed a SeeLevel system by Garnett Technologies. Garnett has been making external tank monitoring systems for heavy duty industrial applications for a long time and their SeeLevel system is designed for RVs. The SeeLevel system consists of an external tank sensor that attaches to the side of any tank via some 3M self-adhesive. These sending units report to a remote monitor panel, which displays the results on a digital display. These senders are always accurate and are not susceptible to fouling. They also read out in 2% increments, while the existing LEDs report only to 1/3 increments. So, if your black water tank reads 1/3 on the LEDs (assuming that it's reading accurately at all today) you would assume that your black tank is only 1/3 full. In reality, it could be just under 2/3. But now you're not sure whether to dump it or wait because you can't rely on the readings. With the SeeLevel system you'll push the button and it will tell you the exact level. If it says 35% you may want to leave it but if it reads 65% you'll probably want to dump it before hitting the road that day.
There is a wide selection of monitor panels but they all work on the same principle. Plus, you can have more than one panel if you want. On my RV I installed the model 712LT in my upstairs and the 711 in the basement water service compartment.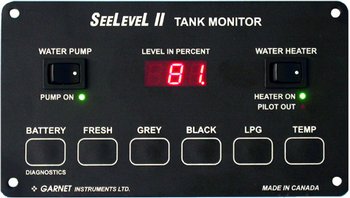 The 712LT panel, shown above, has lots of bells and whistles. When you press the button on the left your house battery voltage will be displayed with accuracy to 1/10th of a volt. When you press the Fresh button the level of the fresh water tank will be displayed. Likewise, the gray and black buttons. The LPG button will readout the propane tank level and this too will be accurate to within 2%. The existing internal LP tank sending unit is capable of doing this because it's just a rheostat. Finally, on the far right is a Temp button that will display the interior coach temperature. Above these buttons is a pair of switches that brackets the digital display readout. The one on the left is designed to turn on the water pump and the one on the right will turn on the propane water heater. It also features a pilot out warning light for that function. Because I had plenty of water pump switches throughout the Allegro Bus I saw no need to utilize the water pump switch. However, I located this model in the central area of the coach, within easy reach of the galley. I then used the water pump switch to turn on the electric hot water heater relay and then relabeled it. Now there is no need to go into the overhead cabinet over the entry door to operate either water heater because everything is handy and easy to access from the galley area.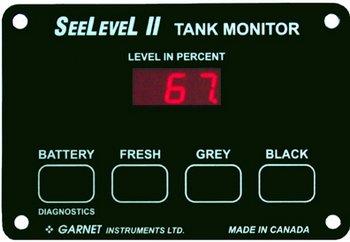 I also added a second panel, the model 711 as shown above, in the basement water service compartment. Now, when ever I am dumping or filling the systems I can easily check levels from that compartment without having to enter the coach. It's also handy if I only want to do a partial dump of the gray water so that I can hold some in reserve for when the sewer hose needs flushing after the black tank was dumped. Actually, you can put as many of these as you want anywhere in the coach and they come in many different configurations, including outside temperature displays.

The tank level senders are digital strips that can be trimmed to the proper length with a scissors. They stick right on the tank with their 3M self-adhesive backing and you can use the existing sensor wires that fed the OEM tank monitor panel if you want. This means you don't have to run all new wires to the sending units.
Overall, this system will eliminate any tank fouling issues, give you very accurate readings, and is very trouble free. Plus, it looks cool!
Check out the following links for more information:
Submitted by Mark Quasius - 3/17/06

The RV Tech Library is brought to you by the TiffinRVnetwork