Tire Pressure Monitoring Systems
Proper tire pressures are critical to the life of a tire and also to the safety and well-being of anyone riding in that vehicle. Low tire pressures cause excessive heat which leads to tire failure, most generally resulting in a sidewall blowout. If a blowout happens to a steer tire you will lose control and find yourself going for a ride that you really don't want to take. Congress recently passed the TREAD act, which requires tire pressure monitoring systems on all new vehicles. As of now the roll-in date for that is 2008. At the present time there are a number of systems available for remotely checking and monitoring tire pressures. Three of the most popular are Tire Sentry, PressurePro, and SmarTire. They are all uniquely different but they all do the same thing, namely, warn the driver of a tire that is losing pressure while you are driving.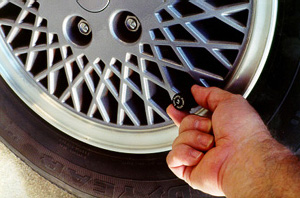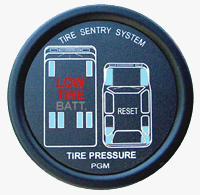 The Tire Sentry uses valve stem mounted sending units that transmit data to a dash mounted receiver. The compact sending units screw right onto the end of your valve stem and can be preset for the desired pressure reading. If the pressure drops a given amount below this threshold, then the corresponding LED flashes on the dash mounted display and an audible alarm sounds. It's a very simple and clean installation and very trouble free.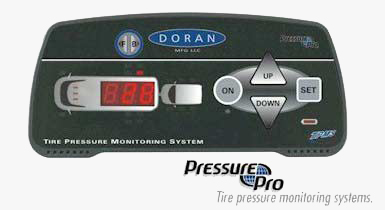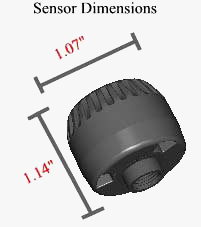 Another popular system is the Pressure Pro system, manufactured by Advantage PressurePro, but also sold and marketed under the Doran name. This system uses a larger sized sensor that also mounts on the valve stems. The Pressure Pro system sensors are not adjustable but instead lock onto whatever pressure is present in the tire when they are installed. Therefore, it's important to make sure that the tires are at the exact cold pressure they need to be at when installing the sensors. Next, you do have to program the receiver to locate and find these sensors so that they are in the proper wheel locations. The display unit is not an in-dash mounted unit but it can be hung in front of the dash or anywhere that the cables will reach. Various suction cup mounts and other brackets are available. This system is bit more work to install but it does give you actual pressure readings rather than low pressure warnings.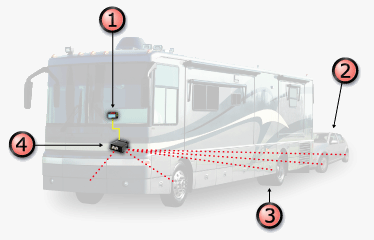 The third system is the SmarTire system. This system uses internal sensors that mount to the inside of your wheel rims. This is a nicer system because they are not exposed to theft or damage and they free up your valve stems and don't add any extra weight to the end of the stems. They are not a do-it-yourself install though because they do require the tires to be unmounted in order to strap the sensors to the inside of the wheel rims. A big advantage of this system is that they can also report tire temperatures as well as pressures on the full color in-dash display.
The SmarTire system is very popular as original equipment with a number of high end coach manufacturers. If you have a SliverLeaf Electronics or TripTek trip/engine computer system you can incorporate the SmarTire sensors right into that system and you do not need a separate dedicated monitor if you so choose.
All of these systems have pros and cons. Check out the manufacturer's websites, then look at the following manuals to see which one best appeals to you. It seems that each model has it's own group of satisfied owners so there is no clear consensus for any one brand. The important thing is to get some kind of system because you do have a lot riding on it.
Please select one of the following links:
Submitted by Mark Quasius - 3/27/06


The RV Tech Library is brought to you by the TiffinRVnetwork