Wheel Rims
Your Tiffin Motorhome product came with one of two rim styles. The standard rim on most chassis is the steel rim with a stainless steel wheel cover. However, Tiffin can spec optional aluminum wheel rims on some chassis and certain models, like the Allegro Bus and Zephyr, come standard with aluminum rims. So what the difference?
Steel Rims:
Steel rims cost less than aluminum rims. But, they are basically not very attractive so an RV manufacturer will dress them up with stainless steel wheel covers to hide them. These wheel covers do a good job of covering up the plain painted steel rims but they do have a few drawbacks. The wheel covers need to be attached properly so that they don't make any noise when driving. They also tend to cover up the slotted cooling holes in the rim by making them even smaller. This can make it difficult to get at the valve stems, particularly if you are going to install valve stem based tire pressure monitor sensors. If you are looking for more information on wheel covers and valve stem extension for steel rims be sure to visit the WheelMasters website for more information.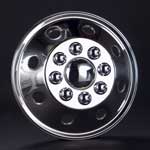 Aluminum Rims:
Aluminum rims are very attractive and don't require any trim rings to hide them. They also are truer than steel rims so they'll ride smoother because they will be "more round" than a steel rim. They also are lighter in weight. Wheels and tires are part of what is called "unsprung weight". This is weight that is not supported by the springs or suspension of your coach. It's the part that bounces up when you hit a bump and needs to be slammed back down to the road in a hurry after you are over the bump. Comparing a vehicle with very light unsprung weight to a vehicle with very heavy unsprung weight is like comparing the handling of a PT boat to the Titanic. The shocks and spring have to work very hard to keep heavier unsprung weight in contact with the road. The net result is that aluminum rims will reduce this weight, aiding in better handling and a smoother ride.
Well then, why doesn't everyone use aluminum rims then? Easy! Ordering a coach with optional aluminum rims will easily add $1,000 to your price tag. That's fine on a Zephyr but do you really want that expense on an entry level RV?
Aluminum rims are thicker than steel. If you look carefully at a coach with aluminum rims you'll finds that the inside duals are steel rims. This is done for two reasons (well, three actually). One, you'll now add another $500 to the price for 2 more rims that you really can't see anyway. Two, the extra thickness of two aluminum rims stacked on the same set of wheel studs means that you'll run out of threads on the studs. If you really want to put aluminum rims on the inside duals you'll have to get extra long wheel studs and have them installed. And three, as we'll see in the next section, it's harder to clean the inside duals.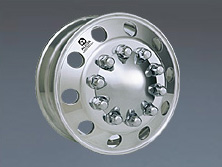 Cleaning Aluminum Rims:
In the old days aluminum rims were just that - aluminum. Aluminum has different cleaning requirements than steel. It won't rust like steel, but it will corrode and tarnish. For that reason it was necessary to spend a fair amount of time polishing those aluminum rims to remove the fine layer of oxidation that was inevitable to maintain their shine. That required a tube of aluminum polish and lots of elbow grease. If you want detailed instructions and pictures of my method of aluminum wheel polishing, check out my web tutorial at www.rvcruzer.com/alumrims.htm
Many of today's aluminum rims are coated with a sealant. This clear sealant will protect the aluminum from oxidation by shielding it from the elements. However, this shield is not bulletproof either. If you neglect your rims you won't be able to clean them with anything harsh or abrasive or else you'll eat through, scratch, or fog the clear shield and your rims won't look very shiny any more. For that reason aluminum rim manufacturers require that you clean them frequently but only with mild soap and water. Put the harsh polishes, steel wool pads, and brass brushes away. You won't need them and they'd only cause harm if you did use them.
Two of the most popular manufacturers of aluminum rims are Accuride Wheels and Alcoa Aluminum.
For cleaning instructions for aluminum rims visit the following links:
Submitted by Mark Quasius - 3/27/06


The RV Tech Library is brought to you by the TiffinRVnetwork